Exciting News - The First Nutrition Farming Podcast to be Released This Week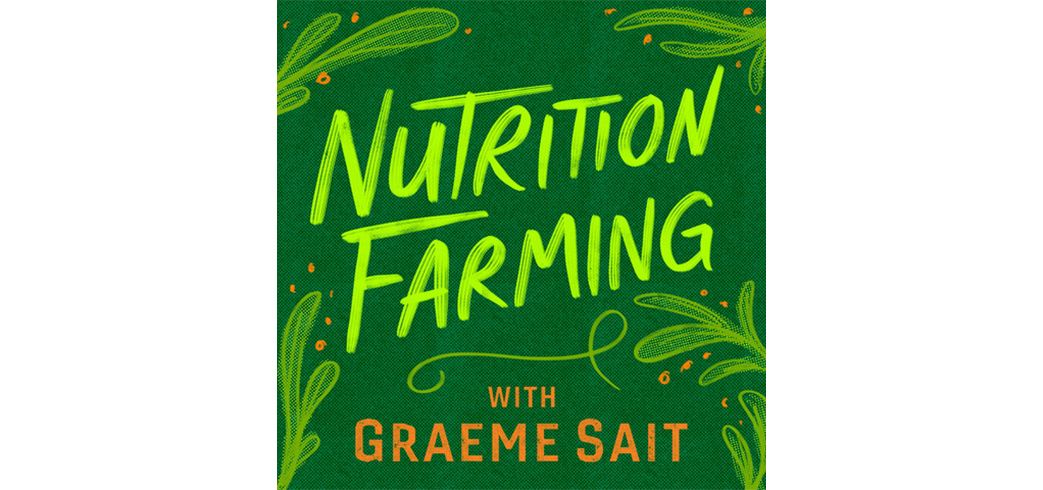 I have had a relaxing few weeks away from travel and teaching. However, reality bites and now it is back to my hectic schedule for the rest of 2020. At this point in my life, I would quite honestly love to just farm and write, intermingled with some teaching, but there is an urgency for change.
My homeland of Australia has long been recognised as the 'canary in the coal mine' relative to the consequences of climate change. This summer, that canary has choked and spluttered through the burning of ten million hectares, the loss of thousands of properties and, sadly, the demise of a billion wild animals. While I can make a difference, I will continue to give my best to help sponsor meaningful change.
These past weeks, I have split my time between our two research farms and my company, NTS.
Both farms have struggled a little in the big dry, but it is forecast to rain all week, so we will be dancing in the puddles!
My son Adam has been over from Berlin, and we have been working on some education projects, including my first podcast series.
The first of the new podcast series will be delivered via my Nutrition Matters Blog later this week.
Podcast Rationale
It has taken me a little too long to embrace this particular education format. Anyone who has attended my courses around the globe will be familiar with the amount of information I deliver in a short time. In fact, it has been described as "drinking from a fire hose".
The podcast format allows growers to absorb this information at their leisure. You can listen in the ute or the tractor, or it may even become a bedtime story (if you can handle that much stimulation before sleep!)
We have completed production of the first three podcasts and we plan to deliver a new episode each month.
Episode 1, scheduled for this week, will involve a broad explanation of Nutrition Farming. I will discuss the current state of play, and the desperate need for change. I will also provide details of key Nutrition Farming strategies to boost production, profitability and farming fun. It is exciting to recognise that you can achieve these outcomes while also increasing sustainability, and helping to address the global warming challenge.
It might seem too good to be true, but many thousands of farmers across four continents have discovered this win/win scenario. In fact, regenerative agriculture has now become something of a global revolution.
Episode 2 will cover the all-important management of humus on your farm, with an in-depth analysis of strategies to increase this, the single most significant determinant of farming success.
Episode 3 will deliver a cutting-edge game plan to manage nitrogen more efficiently.
These initial three episodes largely involve a solo sharing of passion and purpose, but subsequent episodes will include interviews with key consultants and leading farmers, gathered during my travels around the globe.
Stay tuned for the release of Episode 1 later this week!
Upcoming NZ Course
I am delighted to be sharing the stage with dynamic international consultant, Nicole Masters, in Christchurch NZ, from February 17th – 22nd. Nicole's new book, "For the Love of Soil", is something quite special. We will be collaborating for the first time in a five-day event called Regenerate 2020.
There will be guest presentations at the Christchurch conference from regenerative farmers from around the globe, and I guarantee it will be a truly memorable week. Bookings have been very strong, but there may still be a few spare seats should you decide to treat yourself to five game-changing days in beautiful New Zealand.
If you'd like more information on the course, please CLICK HERE to download the course outline. If you have any questions, or you wish to book your place, please contact Michelle Pollock (Integrity Soils) on admin@integritysoils.co.nz or phone +64 211136190.
I will recommence my Nutrition Matters blog shortly but, until then, I wish you all happy, stress-free farming for 2020 and beyond.
Cheers,
Graeme