Exciting New Update for NTS Favourite - Introducing Life Force® Gold™ Pellets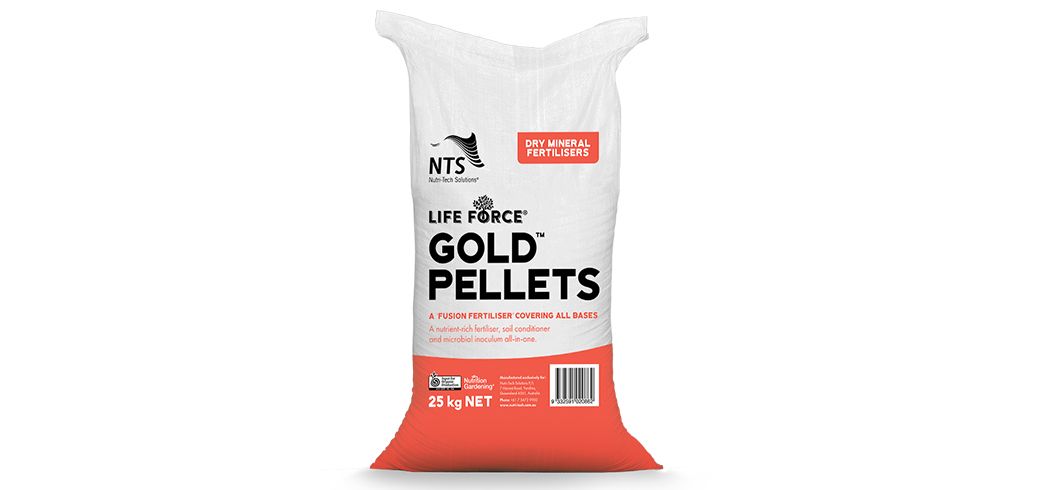 Life Force® Gold™ is an all-inclusive, living fertiliser that was first formulated almost 20 years ago. It features a high carbon, composted base with the addition of natural phosphates, potassium, and a complete range of trace minerals and biostimulants. It effectively serves as a nutrient-rich fertiliser, soil conditioner and microbial inoculum all in one.
Life Force® Gold™ has continued to grow in sales each year for two decades, as growers and gardeners discovered its regenerative potential. The only limiting factor for this proven performer has been the fact that it is in a powdered form, rather than a granule or pellet. This is not particularly user-friendly for commercial growers, as their spreading equipment is usually not suited to the powdered format.
Our reason for not pelletising or granulating this composted fertiliser was based on the loss of microbial biomass linked to the heat required to create a granule or pellet. We were not prepared to sacrifice the microbial inoculum component of our fertiliser, to enable easier application. However, we were recently introduced to a low-temperature pelletising technology that creates a firm, stable pellet without the associated microbial destruction.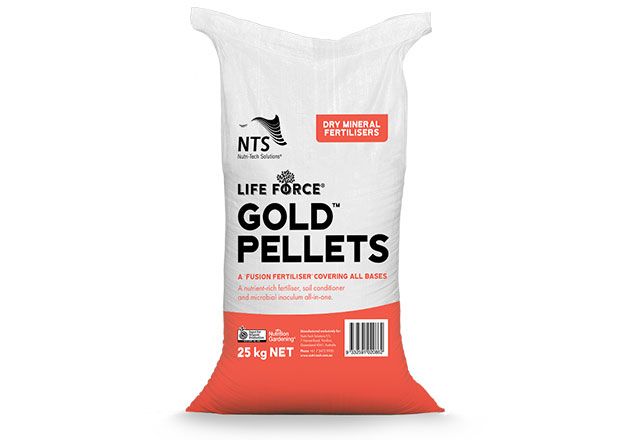 Life Force® Gold™ Pellets are now available, and they are so rich in microbes that they can even be used as a compost starter to make an exceptional compost tea!
The great news about this new release is that we have been able to improve the mineral and carbon analysis, increase the microbial counts, pelletise the new formulation, and even get it ACO certified!
If you have not tried Life Force® Gold™ in the garden or on the farm, you are in for a pleasant surprise. You will be delighted to see the vibrant, healthy plant response associated with the new pelletised formula.
Life Force® Gold™ Pellets are available in 25 kg bags, one tonne bags, or in bulk.
Contact NTS on 07 5472 9900 or sales@nutri-tech.com.au if you would like to experience this revamped favourite.